Knowing foreign languages well, including English, is essential for success these days. Nowadays, we work and learn globally. We also use foreign science, technology, culture and entertainment every day, so English more useful than ever. Thanks to learning English from an early age, even a young child can enjoy English-language works of culture and art, make friends with their peers from another country, or simply look at the world from a wider perspective.
Unfortunately, many children find learning, including learning foreign languages, tedious and difficult. To avoid this, it is worth choosing the right learning methods and matching them to the child's interests and level of proficiency, and trying to teach English in an enjoyable way. One of the best ways to learn English from an early age is to watch stories with your child that teach English. Learning in this way will be enjoyable and fun for your child. In addition, your child will pick up many useful words while you watch the cartoons together, and will be able to use them in everyday situations. Discover the best cartoons and series for learning English and start watching them with your child today!
Why is it worth watching cartoons teaching English with your child?
Many parents say that watching TV is unhealthy for their children and has no value. They couldn't be more wrong! Of course, if you leave your child alone in front of the TV for the whole day and give them uncontrolled access to every programme, the results may be very bad for your child. However, there is nothing wrong with watching TV with your child and choosing together "intelligent" cartoons and series that teach as well as entertain. 
If you want your child to quickly learn the basics of English and immerse themselves in English pronunciation, vocabulary, and grammar without stress, it is worth watching children's stories in English with your child, preferably those intended specifically for learning English.
Watching stories in English with your child brings a host of benefits. First, cartoons can be watched almost anywhere and whenever you want. Such entertainment combined with learning is the perfect way to spend rainy and cold days when you can't go outside. In addition, when you watch cartoons with your child, you do something together and strengthen your bond with each other. Given the busy lifestyle of most modern parents, watching a story together with your child can be very satisfying for them. Most importantly, such stories in English allow a child to become familiar with the correct pronunciation of words, expand their vocabulary, and learn correct syntax and the basic principles of English grammar from the dialogues spoken by cartoon characters.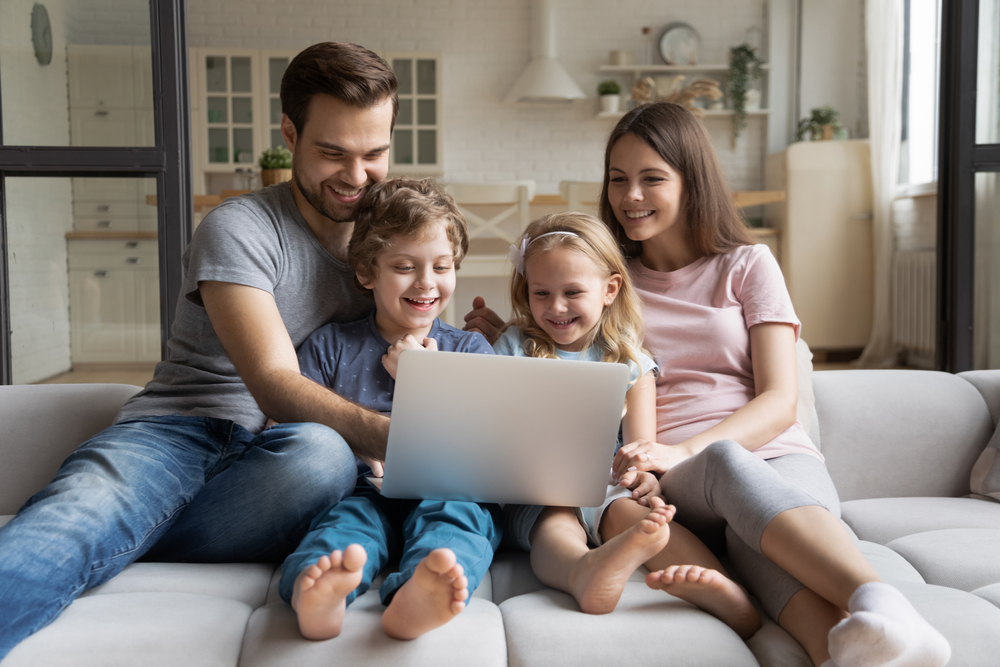 The best cartoons and series for children to learn English
Below you can find some of the most interesting and useful series and cartoons for children, which we believe are the best for learning English. Discover together with your child which cartoon you like the most. Who knows, maybe your child could soon have a new, favourite English-speaking character from a cartoon and will start talking about them enthusiastically in English?
Peppa Pig
The adventures of Peppa Pig and her funny family are eagerly followed by children all over the world and the cartoon is extremely popular everywhere. This British production first aired in 2004 and since then has had as many as 303 episodes. The cartoon is aimed mainly at preschool children who are just starting their adventure with the English language. The episodes are only 5 minutes long — short enough for preschoolers to focus all their attention on them. In addition, Peppa's adventures in the cartoon are always simple and understandable, and the characters use the simplest and most common English vocabulary. Another advantage is the fact that they speak pure English, without any slang and at a pace slow enough for a child to understand.
Sesame Street
First broadcast in 1969, this is a real classic among programmes for learning English. The main goal of this American production, which has as many as 4,300 episodes, is education through play, adapted to the level of both older and younger children. The adventures of the funny characters living on Sesame Street are easy to follow, and your child will have no problem keeping up with the uncomplicated story in English. Besides, it doesn't take long to convince anyone to like characters such as Elmo, Kermit, or Cookie Monster. We're sure that learning English with the Sesame Street characters will be great fun for your child and will help them to make rapid progress with the language.
Martha Speaks
Martha Speaks, as the name suggests, is a cartoon for children in English that aims to encourage them to actively watch and pronounce newly learned English words. The cartoon tells the story of a dog who has learned to speak after eating some alphabet soup. The cartoon is especially recommended for very young children, as each episode focuses on new phrases that are repeated several times during the episode in different contexts. This makes it easier for children to remember them and pronounce them correctly at the end of the episode. Martha Speaks is an extremely smart story for preschool children who want to learn new English words so that they can use them later in their everyday lives.
Arthur
This Canadian-American animated series for children about the adventures of Arthur is another excellent option for learning English from TV series for children. The cartoon first aired in 1996, and has so far run to 246 episodes. The main character, Arthur, lives with his parents and sister in a city of happy animals and attends school just like other animals. However, instead of going home after school, Arthur and his friends constantly go on detective expeditions to find answers to important questions. This English cartoon for children not only helps in learning English but also touches on many important life issues such as personalities, interests and illness. This is a very interesting option for slightly older children who want to expand their worldview a bit.
The Magic School Bus
What child would not like to get on a magical school bus during lessons in school or preschool and get to know the world from a completely new perspective? The Magic School Bus offers such a possibility. The main characters of this American-Canadian story for children, first broadcast in 1994, are Miss Frizzle and her class, who go on exciting trips deep into the human body, into the Earth's interior, into the infinity of space, or inside electrical cables, during lessons. And that's just the beginning! By watching this story, your child can safely participate in these amazing adventures and learn a lot about how the world around them works with the use of English vocabulary. The story describes the world as it is in English in a very factual way and allows children to learn more advanced vocabulary, which they can later use in different situations.