Whether adults want it or not, modern children cannot imagine their life without videos. Various devices have become ingrained in our everyday lives, and they largely determine the way an entire generation perceives information. Currently, parents are not surprised that the first toy their children take in their hands is a tablet.
But how does this phenomenon affect their learning processes? 
Firstly, the children are visual learners. 

Secondly, such children are very pragmatic, and the most important question for them is "How to use the acquired knowledge in real-life situations?"

Thirdly, if these children are interested in something, they will persist in achieving their goals. But it is not easy to interest them. 

Fourthly, their thinking and perception are not focused on memorizing facts and details, but on where to find the necessary information and how to apply it in the future.
Thus, visibility plays a crucial role in the learning process. Things evoking vivid emotions and impressions are easier to remember. Acquiring knowledge is better during an interaction. Therefore, of course, video content and cartoons play a significant role in building high-quality and effective learning. Especially when teaching a foreign language, cartoons are a great resource to learn English!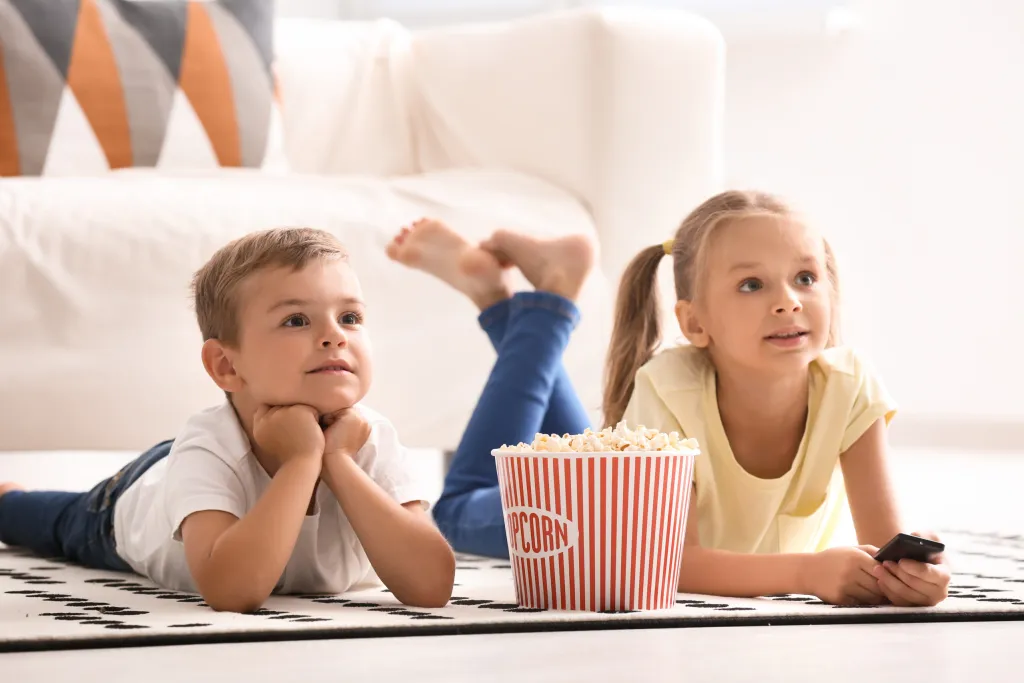 Learning English through cartoons – the role of videos in kids' education
The use of videos in the process of learning a language is, firstly, an example of live conversation. However, these are not just audio recordings. In the videos, we see who is speaking. We see facial expressions and gestures which help us understand the intonation and the situation in general. 
These cartoons, for kids learning English, create a real-life language environment. Children begin to understand that they are the same girls and boys who have mums and dads, and they have the same life; they speak differently, yet they still understand one another.
Any visual sequence that accompanies speech makes the information closer to the viewer. Regional and cultural facts become not just a set of phrases but give rise to associations, thoughts, and a desire to learn more about the subject. 
Visuals encourage you to go to the places in question, try food (if the conversation is about the traditions of local cuisine), take part in a holiday or visit a museum. These country peculiarities become personally significant; they motivate people to learn English – to learn more, you need to know the language better.
Videos in English with children: How to choose
The right choice of videos in English for children plays an important role. Channels such as YouTube, for example, allow you to have access to a vast amount of videos, most of which are in English. The quick analysis allows distinguishing the following types:
Authentic videos

(English movies for kids, cartoons for learning English, video blogs, amateur video stories by native speakers)

Educational authentic video

i.e. video stories created, for example, for teaching English-speaking children (native speakers). These are informative videos on a variety of topics and fields of science. For example, videos about natural phenomena, historical events, geographical discoveries, space exploration, biographies of famous people, etc.

English educational movies

for

language learners (educational videos that introduce various aspects of the language, cartoons to learn English, educational videos that aim to teach English).
Thus, videos in English can be divided into 2 large groups:
Special-purpose videos.

These are, for example, video lessons or educational video films for the formation or development of auditory-pronouncing or lexical-grammatical skills.

Motivating videos.

These are motivational videos to help children make sure they have already achieved success in learning English. They understand what the video series is about, they like it, so it encourages them to move on. Such videos are intended for discussion and so should have a communicative purpose.
When choosing a cartoon or movie in English for teaching children, several factors should be taken into account:
The age of the child.

The purpose of watching the video.

The level of language proficiency.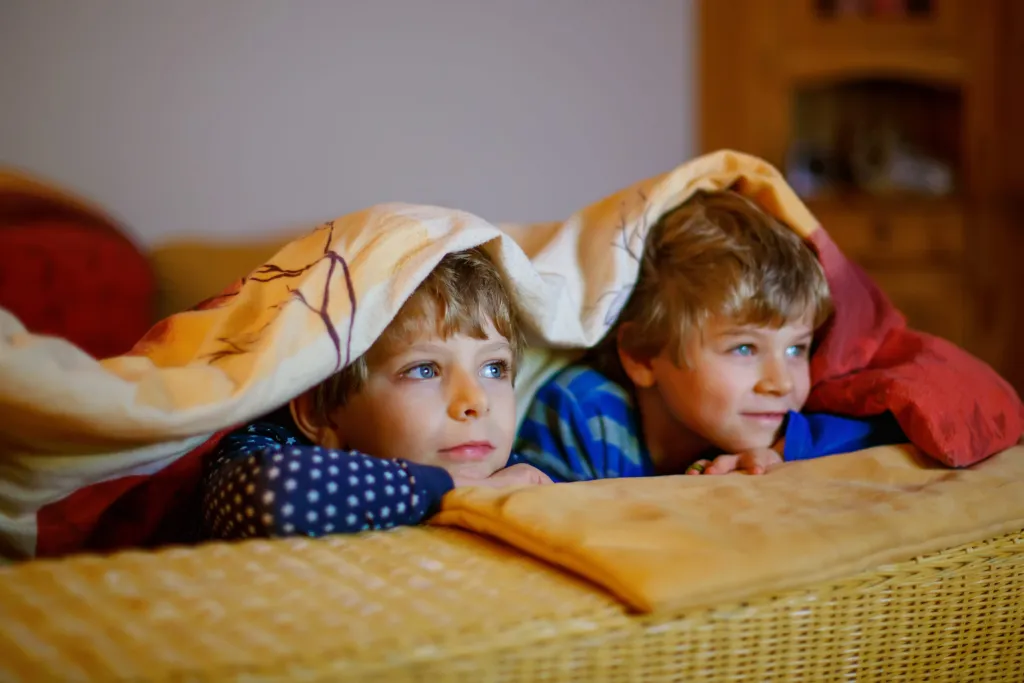 Videos for teaching English to children
As you know, learning English with kids should not be purely educational. Ideally, children should absorb the language from the environment as something inextricably linked to their daily lifestyle. The same applies to learning English from cartoons for kids and movies. If your child cannot do without cartoons in their modern world, let them watch cartoons in English!
Best cartoons to learn English have a simple storyline, which is clear without words. The events are based on relatable situations; that is why children love them so much. Just let children watch cartoons in English. Cartoon characters use simple phrases; they speak clearly and use correct intonation. Children love to watch the same thing repeatedly, so your child will begin to use the phrases that they have heard in the video before you know it.
And if their favorite toy is a cartoon character, and if you role play the story after watching, even if a child cannot speak yet, their brain is actively developing; a lot of information is acquired subconsciously. 
Do not forget that language proficiency is not only what we always say, i.e. what we are actively using. A lot of things are kept passive, so we listen, read and understand the meaning. It is the same with children. They absorb and accumulate everything that surrounds them.
The most effective cartoons for beginner kids are: Paw Patrol, Little Princess, Peppa the Pig, My Little Pony: Friendship is Magic, etc. – modern animated series that children love so much. These cartoons are short – 5-7 minutes, the characters speak clearly, use short phrases and the images are bright and clear.
In addition to the cartoons, younger preschoolers love videos based on educational songs. Children like to imitate what they see in the video. So visual images and audio are accompanied by body language. Rhythm and rhythm – rhyming contributes to quick memorization; the picture and movements help understand the meaning. 
A child experiences everything that is happening in the video. Numbers, colors, animals… No problem! Watch, listen, sing, repeat, and remember. Grammatical structures are remembered automatically, and set phrases can be included in everyday communication with the child, depicting the cartoon character and their intonation. 
Try it yourself! The child will appreciate your efforts and join the game. Resources such as Pink Fong, Maple Leaf Learning, Little Baby Bum, etc., will help you.
Choose a proper cartoon to learn English for older preschoolers and younger schoolchildren.
By the age of 6-8, the child's brain has already reached such a level of development that it is ready for more conscious learning of grammar. Of course, this does not mean cramming the rules. But it already makes sense to add grammatical videos aimed at visualizing a particular pattern to vocabulary-based videos. For example, I'm walking – He is walking – They are walking…
Here, the role of the video is that it combines both the structure and the context. A clear image is captured in the head – just like a shot when taking a photo.
Grammar videos can be in the form of mini-dialogs. See such resources as English SingSing or LittleFox. Mini-stories in educational cartoons are also built around the clichéd and most frequently used phrases like: greetings, talking about the weather, asking what someone is doing, daily routines, what you like/don't like. As a rule, the "control phrase" is repeated many times, but the setting changes all the time, making it recognizable in different contexts.
English movies for kids that are recommended for school children
For 2nd or 3rd graders, who are beginning to learn English at school, videos for memorizing vocabulary are of great importance. All video stories that combine this vocabulary and grammar are also helpful. We can recommend Super Simple Learning, or videos such as Baby Animals. 
Specially created educational animated series will help increase interest in English and make the learning process fun. For example, many people love Gogo Loves English. The situations in which he finds himself are close to younger school children, and the main character cannot leave anyone indifferent. We also love another character, Muzzy, and the series about him is called Muzzy in Gondoland and Muzzy Comes Back.
Movies in English for "advanced" learners
When a child has already mastered at least the fundamentals of grammar and has a minimal vocabulary, you can and should add authentic videos that are not focused on learning the language itself but on expanding knowledge about the country of the target language and about the world as a whole through the English language. It is okay if such content videos are designed for younger children, and they talk about what your child already knows. The language must not be adapted for educational purposes.
Of course, such videos require a more thorough search and, at first, should be watched together. But you will be happy with the progress – the child will "catch" phrases and new information. We can advise The Cat in the Hat Knows a Lot About That, Finding Stuff Out or Science Max.
In such English cartoons for learning English for children, the effect of the created interaction is important – as a rule, such videos are always made as a question-answer pattern. When you watch the video again, you can pause it and ask the child to answer the question. It is also significant that the child likes the topic of the video. What is their hobby? Lego? Animals? Space? Cars? Plane? Choose topics that your child is interested in, and it will be impossible to pull them away.
And how about watching movies in English with the whole family?
Of course, you have no choice but to love English if you spend at least one evening with your family watching a movie or a full-length animated movie in English. Just make it a tradition. It is helpful for both children and adults. Watch the cartoons for learning English, that you have already watched before in your native language, for example, in the cinema. 
The ear learns to listen to English speech; the brain catches the words, highlights the main idea, correlates with the visible, visual image of what the characters say, and the speech apparatus participates in internal pronunciation at the same time. This process always works when we listen to someone or something. Shrek, Harry Potter, Puss in Boots, Cold Heart, Toy Story, Moana, How to Train Your Dragon, etc. – watch them only in English! And you will learn to understand English by ear.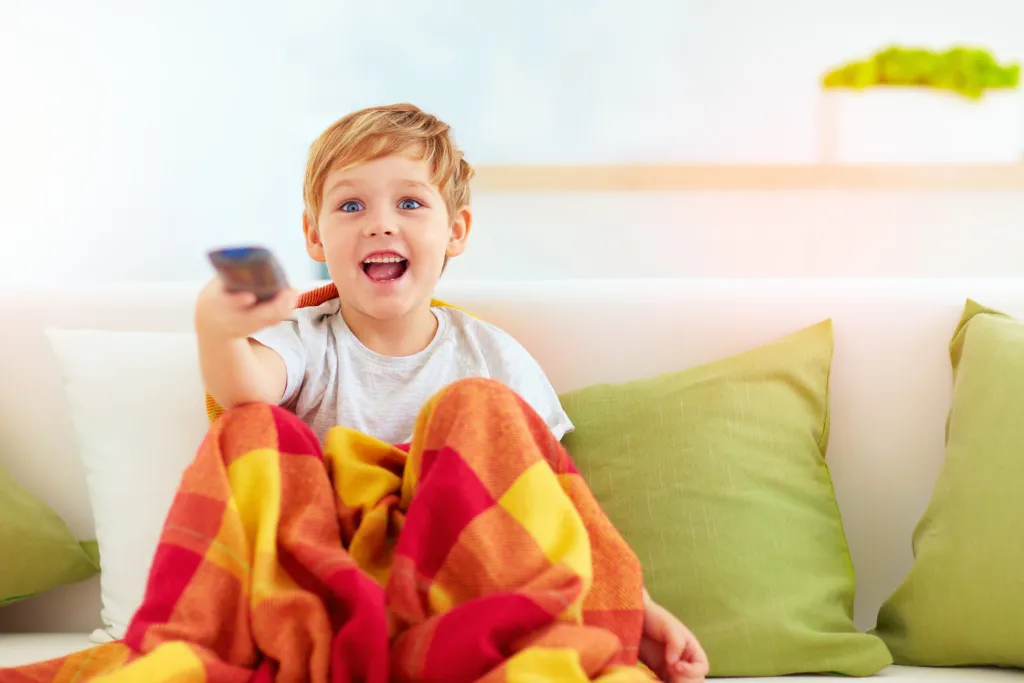 English movies/shows for kids – top 20 recommendations
Paw Patrol 

Peppa the Pig

My Little Pony

Arthur

Phineas and Ferb

Postman Pat

Bob the Builder

Shrek 

Harry Potter 

Puss in Boots

Toy Story

Moana

How to Train Your Dragon, 

Charlie and the Chocolate Factory

Back to the future

Lion King

How the Grinch stole Christmas

Martha Speaks

Doki

Adventure Time
Afterword
Watching and understanding cartoons and films in English is great! But to speak English fluently, it is necessary to form and develop speaking skills as well. And watching videos alone is not enough. You can practice techniques such as "stop-motion" or "voicing":
"Stop-motion" involves pauses when watching a particular video and a question-answer pattern about what has been seen. For example, you can specify the details of what is happening or describe the characters, or make a "prediction" – what is going to happen next.
"Voicing" is a technique where you mute the video and ask students to give voices to the characters and act out the dialogs. Providing it is regular practice, such tasks significantly develop speaking skills.
However, successful completion of such tasks requires specific language knowledge and, consequently, systematic learning of the language.
English online lessons for children based on educational cartoons and video content
English educational video lessons for children, which are becoming more and more popular, can help here. They are divided into two types.
The first is pre-recorded video lessons. Each lesson is dedicated to a specific topic, which is presented very clearly and visibly. To teach children, such videos feature a permanent character who introduces the topic. Good lessons of this kind are interactive; the character has a conversation with the students, asking questions with limited time to answer, for example: Little Pim, Tom, and Keri, Zippy and me. 
The advantages of such video lessons are that they may be completely free or be available at a relatively low price. Usually, after payment, you get access to a large amount of content. The "cons" include a lack of feedback, answer checking, recommendations, homework, and progress control.
Therefore, the second type is preferred for teaching children – video lessons with live communication with the teacher. For example, video lessons in Novakid Online English School for Children, which include songs, educational dialogs with a teacher, a lot of visual aids, and game techniques, that will allow your child to see their progress in language learning. 
Watching extra videos in English at home with parents after such lessons will only be a joy. Try it; the first lesson is free!