The trend for learning English has not weakened for many years, and recently, thanks to new, previously unavailable forms of education, it is even gaining momentum. With online lessons or classes with native speakers, it is much easier for students to stay in touch with a "living" language. Extracurricular English classes with a native speaker have become extremely popular recently, mainly due to technological development. Currently, all a student needs to connect with an English teacher from another country is a computer with Internet access. The whole meeting takes place without leaving home and commuting anywhere. A teacher for whom English is the first language is called a native speaker. As numerous studies show, a native speaker can effectively help a child learn a foreign language!
Find out more about English lessons with a native speaker and check out a native speaker – who is it! Find out if English language classes conducted by a native speaker are something that will help your child learn English faster on many levels. Discover all the benefits of learning with a native speaker and sign up for trial classes today. We will tell you where to look for reliable online classes conducted by the best native speakers from around the world!
Who is a native speaker?
A native English speaker is a person for whom English is the mother tongue. This does not mean, however, that a native speaker must necessarily be of British, American or Australian nationality. It may well be a representative of any other nationality who lives in an English-speaking country on a daily basis and speaks English at the same level of proficiency as their mother tongue. For example, a native speaker may be an English teacher from India or a person who was born in Brazil, but lives most of their life in Great Britain and speaks this language on a daily basis. With a native speaker, the most important thing is that this person has constant contact with the natural English language, is immersed in a particular language environment and can share their knowledge and experience from everyday life in an English-speaking country with students.  It is also worth remembering that the term native speaker does not only refer to English speakers. It applies to every language in the world.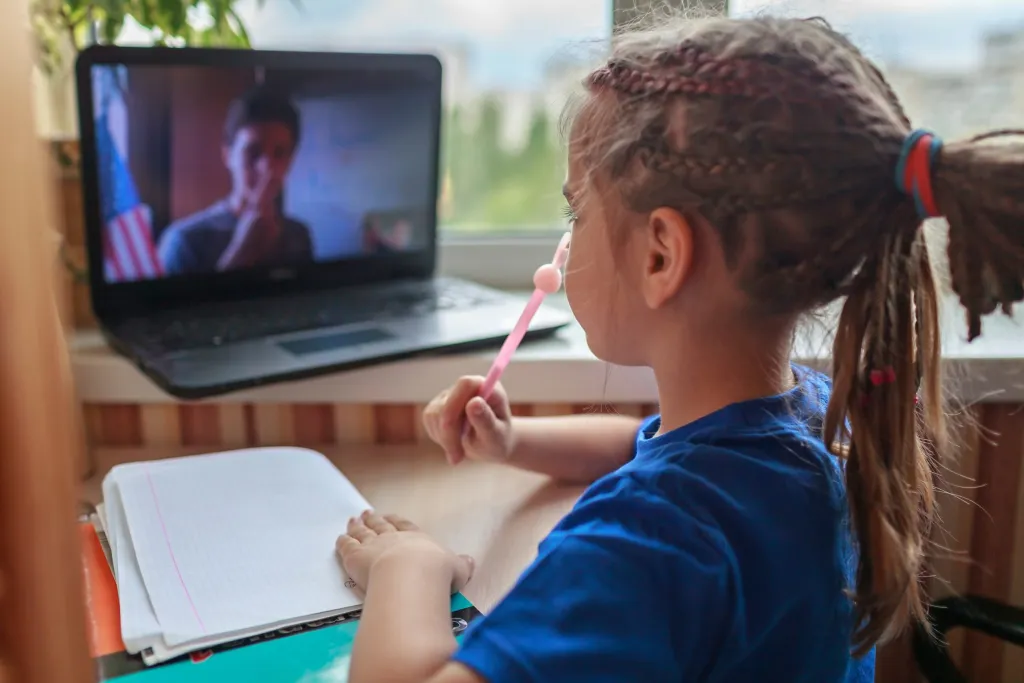 Native speaker – how does it work?
At the beginning, it is important to realize that not every English-speaking native speaker has the appropriate qualifications to teach English, because a native speaker does not always make a certified English teacher.
The child can achieve the fastest results and learning progress when they find an English teacher who is a native speaker. Such a person not only has the appropriate language predispositions, but also has experience in teaching and knowledge about effective methods of learning English. The biggest advantage of classes with a native speaker is the need to only speak English during lessons. This definitely speeds up the entire learning process and reduces any possible language barrier.
Regular learning with a native-speaker teacher allows the child to, among others, become familiar with the original sound of the language, learn the vocabulary and linguistic nuances that only native speakers of a foreign language are able to explain correctly and learn grammar from conversations with a native speaker as well as rules communicated in the form of natural knowledge.
Benefits of learning with native English speaker
Here is a clear list of benefits that should convince you that a native speaker can effectively help your child learn a foreign language.
You communicate only in English,
This is the most natural way to learn English,
You have continuous contact with the English language,
It teaches you to speak English fluently,
You have the possibility to learn colloquial speech and slang,
You learn idioms and phrasemes,
You can develop the habit of thinking in English,
It helps to eliminate the language barrier,
You learn through play (for the youngest students),
It helps to break the shyness,
It prepares for many situations in everyday life,
It teaches tolerance and respect for other cultures,
It guarantees contact with English-speaking culture and art,
It allows you to get the desired accent,
This is a more interesting form of learning English than at school,
It motivates you to learn English regularly.
Native speaker online – how does it work?
Lessons with a native speaker can be organized in the form of traditional meetings, privately or through a language school, as well as online. Thanks to technological development, nowadays the form of online classes with a native speaker is very popular among children learning English. It is a great convenience for students and their parents. Children do not need to be taken to additional lessons anywhere, and you can communicate with a native speaker without leaving home.
This form of online classes with a native speaker also offers a broad range of possibilities. A student from any corner of the world can connect with a native-speaking teacher who lives even in the other hemisphere! The high availability of native speakers from around the world who are ready to share their language experience with students increases the attractiveness of each class and broadens the child's worldview.
If you want to enroll your child for a trial English lesson with a native speaker online, act now! Check out English lessons in the form of fun with a native speaker in Novakid. See how quickly your child starts speaking English and how eagerly they will be looking for the next online lesson with their favorite native speaker. Lessons at Novakid are the best way to encourage your child to learn English!